We provide independent trust administration services for high-net-worth families across the Southeast and beyond.
Chartered in Tennessee, one of the country's leading trust jurisdictions, Magnolia Trust Company provides an independent trustee solution that seamlessly integrates with your existing family advisors.
While most of our clients are high-net-worth families across the Southeast, our successful strategies and results have attracted families, foundations, and high-net-worth individuals from across the United States.
Geographic location aside, there is a commonality among our clients. They have practiced a lifetime of hard work and fiscal responsibility, resulting in substantial estates. For them, the value of these estates is an opportunity to create a foundation for future generations.
We partner with you to ensure that this foundation is preserved, realizing your family's legacy.
Every family is unique – different sizes, varying estate values and types of assets. And within families, there are often differing individual needs – distinctive personalities, ambitions, and goals.
We work with families to create tax and trust strategies that address unique family assets and long-term plans.
As specific family needs evolve, we continually find the best ways to meet these needs. Our customized approach makes adapting to changes in tax and trust strategies a manageable and efficient process.
As all families are unique, it is important to recognize issues that may be difficult for non-specialists to identify. Because of this, our team's deep experience is particularly valued by our clients. Our experience allows us to provide strategies that work in real-world applications and result in substantial time and fiscal savings.
Your family is at the core of a team of trusted advisors.
Having your family at the core of your legacy strategy is the best way to achieve your aspirations. When financial, tax, trust, and other advisory services are lumped together, the approach tends to focus on the services and less on the family. It is out of balance. Having you at the core of a coordinated group of independent advisors makes the approach balanced and family centric. From the central vantage point, it's easy to watch your aspirations come to life.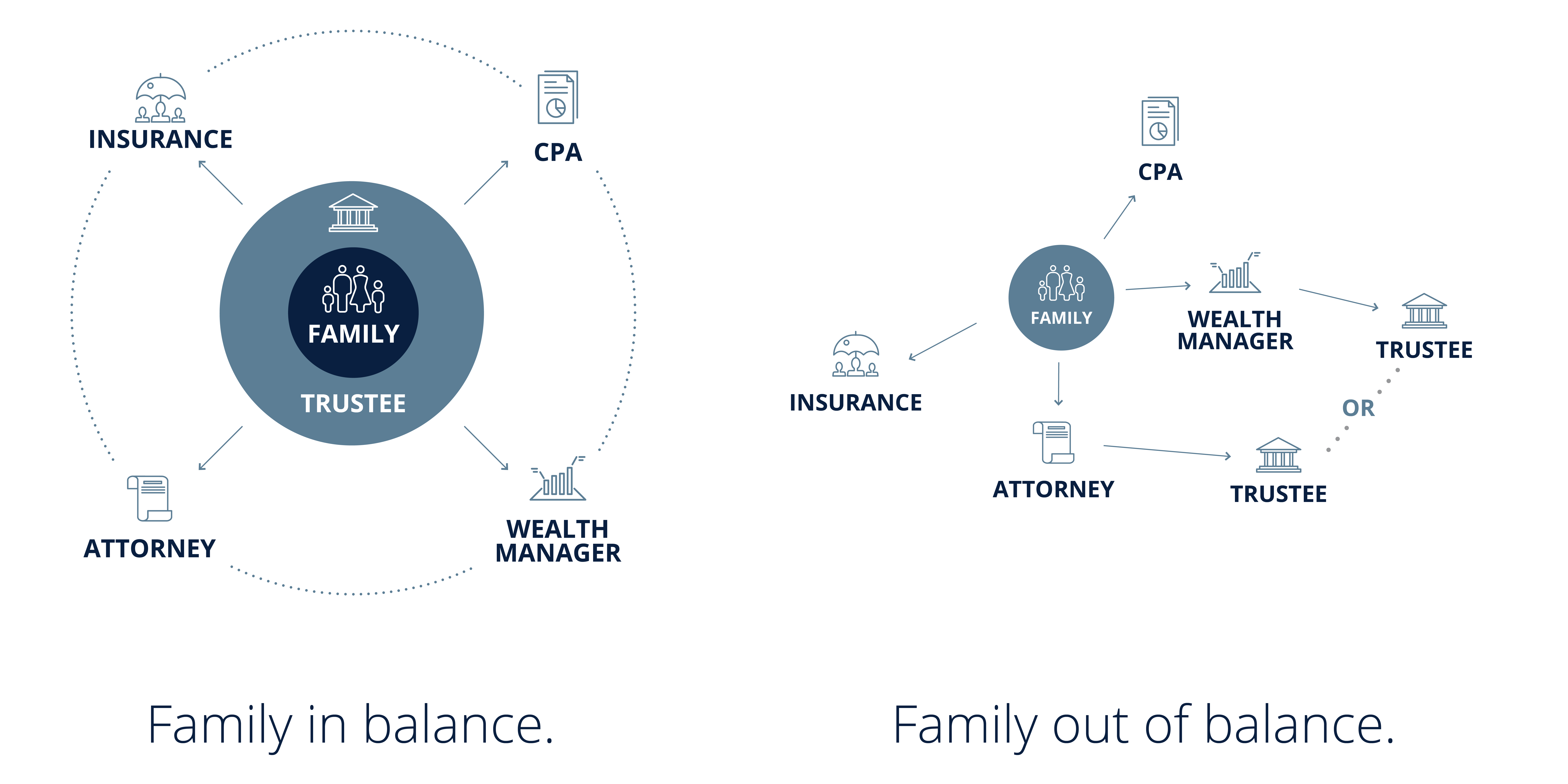 Learn more about our approach.